Dynasty fantasy football is much like war. You need to know your opponent, understand how to prepare and create a battle plan, how to construct a balanced roster with a defined vision, and know when to go for the title or (re)build for a future run. A deep and intimate understanding of both strategy and football is required to be consistently successful in a dynasty league. This treatise illustrates the fine art of building a true dynasty and maintain a top position in your leagues for a considerable time.
These are the core tenets I believe are critical to success in building a dynasty behemoth that will yield results year over year.
I discussed the strategy of approaching dynasty fantasy football startup drafts in Chapter 1. In sum, the goal is to trade back and look to draft players that you have ranked and grouped in tiers. By moving back in a(ny) draft, you are gaining value/draft capital while still being able to select productive players. With the recent reset in dynasty, our methodology may stay the same but focus shifts to embrace a short-term productive struggle defined by a first-year punt backed with a treasure trove of rookie picks and young players.
Remember that these are general guidelines for an optimal draft. The most important thing to keep in mind is to not chase the perfect draft, let it happen. Put in the work and effort to make it happen but don't throw away value just to get younger or accumulate picks. You have to play the board and let the value drop to you. Set trade traps, draft bait, proactively and consistently reach out to managers. Even if all the chips fall perfectly into place, all you are guaranteed is having a ton of upside and draft capital with improved odds of long-term success.
Here are the core elements of a perfect dynasty fantasy football startup draft aka Startup Supreme:
🌱 Average age of roster ≤ 25
✈️ ≥ two young QBs (Konami with upside + safe QB2)
🔨 Backup RBs and veteran WRs
💰 ≥ four 2022 rookie picks (Ideally two 1sts, two 2nds)
💎 ≥ six 2023 1sts
25 to Life
When drafting a new dynasty team, there are generally two schools of thought – Win Now and Go Young. There are advantages to both so a combination is recommended.
Start the draft by targeting young elite options, starting with QBs in Superflex (if you are not able to move back). If you were able to move back from rounds 1/2, then look to draft elite young WRs early on. Aiming for the optimal startup draft means sacrificing the elite RBs like Swift, Harris, and Williams early this year. As you get to the later rounds, focus your picks on veterans with starter upside – backup RBs and depth WRs who are in high-powered offenses. The end result of your startup draft would be a roster with an average age of 25 or under that is packed with upside – a mix of young players, backup RBs, and veteran WRs.
Flight Club
Quarterbacks are critical cornerstones in Superflex leagues, especially those with 6 point passing TDs. When you look at the current dynasty fantasy football rankings, there are distinct cut-offs at the tier breaks and as you pass QB20 it becomes slim quickly. The 2022 rookie class does not present many quarterback prospects either. Securing two quarterbacks with at least 3 to 4 years of runway left gives your team enough window to build with the next two draft classes and build an ultra-competitive team with staying power. One of those QBs needs to be a Konami (i.e., Allen, Kyler, Lamar, Deshaun, Lance, Fields).
In most of the leagues that I play in, QBs are hard to come by and managers often want a ransom in return, which often cripples your team in the short and long term. Target quality QBs on rookie contracts or fresh off extensions before it's too late and you're praying Carson Wentz falls to you. More runway = more time to take off.
[THREAD]: How important is it to have a #KonamiCode QB for fantasy?

It is more important than ever. Once a rare resource, it's now a basic necessity if you want to be competitive at the position.

The chart below shows % Konami in the top 12 PPG QBs by year. Let's dig in… pic.twitter.com/gJojHacPEu

— Michael Liu (@MiKeMeUpP) January 3, 2021
Side Note: My good buddy Mike Liu recently announced his retirement from the fantasy football industry. Mike has been cited several times through AOD because he is one of the biggest influences on my dynasty strategy. Best wishes to Mike and his future endeavors!
Trade Bait
Backup running backs who have starter potential and veteran wide receivers with top 36-40 upside are players you want to target in the middle and late rounds. The Startup Supreme strategy is viable because of the depth at RB and WR given the influx of talent coming in over the next few years. When we look at startup drafts in two years, many of these players will either be a roster clogger or out of the league.
The plan is to draft backup RBs and veteran WRs and hold them into the season, waiting for the opportunity to trade them away (i.e., injury, breakout). This will undoubtedly open a trade window and you move at market value, flipping for rookie picks and an easy profit. These are tradeable assets that will accumulate value as we get to Weeks 10-16 of the fantasy football season. When you trade them, you will drop points and continue your legitimate tank to the 2023 1.01.
Picks are the only equity guarantees in dynasty. Balance allows you to have a core of proven vets, and as they hit the age apex, you move them for semi-proven players a few years younger. You lose that max production, but still get 70-80%. Then some youth for the backfill.

— Pharaoh of Phantasy ⚖️ (@DTC_IzzyE) August 24, 2021
Iron Bank
How do you reap a harvest? Plant a bunch of seeds. It's a pretty simple concept but seeding is vital in the startup world – fantasy or Silicon Valley. In dynasty fantasy football, our seeds are rookie picks, so we need as many as possible.
As noted in Chapter 6, the value of rookie picks in dynasty fantasy football follows a cycle. One of the tried-and-true lessons of startup drafts that include rookie picks is that it is fairly difficult to "reach" for a rookie pick as long as you're within reason. This is because all rookie picks will inevitably increase in value when they are on the clock. It is a matter of time and patience to plant the seed and watch it grow to either profit or a prospect.
Additionally, there has been a reset in the dynasty landscape and the dust has not settled. A deep (but not elite) 2022 class will be followed by a 2023 class that is stacked with top-shelf prospects. It is possible that the dynasty RB1 in 2023 is not in the league yet. These are the seismic shifts in the long game that you need to invest in so you can build a foundation with the best young players possible. Another note – a year ago many, if not most, confidently stated that the 2022 draft class was worthless. Look around and you won't hear that sentiment anymore. Be early to the market and avoid overcorrections.
Thanos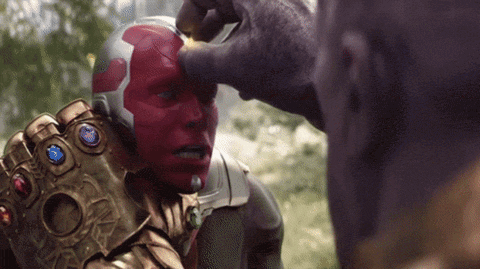 Speaking of being early to the market, it is no secret that the 2023 rookie class could be game-changing with the number of talented prospects set to join the league. Arms races have already begun across many leagues as managers vie for as many 2023 picks as possible.
A startup draft allows everyone a chance to collect 2023 picks, although it will be much more difficult in practice. But we still try (aggressively with prudence). Regardless of the draft class, the more picks you have in the first two rounds, the more powerful is your hand and leverage. Much like what it took Thanos to collect all six Infinity Stones, obtaining six 2023 rookie picks is a near-impossible task in most leagues. Every trade is an opportunity to squeeze a rookie pick out of your trade partner. The less you ask in return aside from the pick, the more likely you are likely to get a 2023 1st.
Luck is where preparation meets opportunity – so be prepared to take advantage of league mates who want to (1) discount rookie picks; (2) get their guy; and/or (3) win now. There is usually someone willing to trade away future picks. Once someone makes a run for a 2022 title, others may chase. You should be DM'ing your leaguemates throughout the draft, kicking tires, turning over stones. The people who complain that they are not getting deals are those who aren't working. You need to be aggressive and attack the board early.
Unicorns Exist
I was recently able to capture the unicorn – the perfect startup draft – in a 12-team Superflex dynasty league. Your first reaction is probably that it was a Mickey Mouse league with a bunch of fish, but it is actually one filled with sharps and experienced gamers. Feel free to browse the draftboard. Over the course of nine trades during the startup draft, I was able to draft this team which shows that it is possible. The goal now is to slowly trade away all of the veteran players, leaving only my young QBs and an initial set of 2022 rookies. This will allow me to free fall to 1.01 to draft a 21-year-old bellcow RB.
🌱 Average age of roster = 24.75 years